Administrator
Staff member
WISH-TV Channel 8 is the only television station in the Indianapolis market using a drone for news coverage. And it uses the device only sparingly.
Both things are about to change.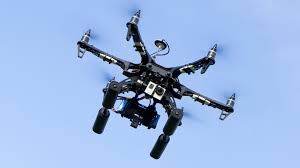 The Federal Aviation Administration last month approved new regulations that TV industry experts say will open the floodgates for drone use in news reporting.
The biggest changes—which are set to take effect Aug. 29—mean commercial drone operators will no longer need a pilot's license, the unmanned aircraft can fly before dawn and after dusk, and the drones can fly much closer to people. In addition, a flight plan providing 24 to 72 hours of notice is no longer required.
"The holdup for a lot of stations has been seeing what the FAA was going to do," said WISH News Director Al Carl. "And now that this is getting settled, drones are now going to be a very important news-gathering tool."
Of WISH parent Media General's 71 stations, only 13 currently operate drones, Carl said.
"I think very soon, every one of our stations will have one," he said. "Right now, we're discussing how the new rules help us and how we can utilize this new technology in news gathering. We think we have an advantage here because we have a head start."
Officials for all the local TV stations said they are looking into buying and using drones.
"As changes in federal laws regarding drone use continue to evolve, we are exploring ways to add [them] to our newscasts," said Kerri Cavanaugh, vice president of news for Tribune Broadcasting's WXIN-TV Channel 59 and WTTV-TV Channel 4.
While current regulations make it impossible to use a drone to cover sudden, breaking news, Carl said WISH has used its drone to cover planned events. The station debuted its drone last November, airing live shots of Veterans Day activities at Crown Hill Cemetery.
Drones are routinely used by national news outlets. CNN, for example, flew one over the devastation caused by a July 3 suicide bomber in Baghdad where at least 250 people were killed.
"It's not just another news-gathering arrow in a station's quiver," said Robert Unmacht, a partner at iN3 Partners, a Tennessee-based investment banking consultancy focused on broadcasting and technology. "With the changes coming, it will be absolutely essential to all broadcast journalists."
Currently, only WISH's helicopter pilot, Keith McCutchen, is allowed to fly the station's drone. But McCutchen, who has 40 years of experience flying helicopters, said he can train WISH photographers and reporters to use a drone in short order.
McCutchen took a three-day training course in Denver before flying a drone and said, in many respects, it's not much more difficult than driving a car.
"The more you do it, the easier it gets," he said. "But you can't get complacent with them. There are some risks involved and we're always very careful."
Cost-efficient
One big advantage of a drone is that it allows stations to get aerial shots without the steep expense of a helicopter. WISH paid $6,000 for its drone, a DJI Inspire 1 model, which provides 360-degree views. McCutchen said the 6-1/2-pound drone "is one of the best you can get." Industry sources said stations can get a suitable one for half that price.
"I think it will get to the point very quickly that the stations that don't have one will be at a competitive disadvantage," said Mike Cavender, executive director for the Radio Television Digital News Association, a Washington, D.C., trade group that has been lobbying more than five years for looser commercial drone restrictions.
Cavender said the current regulations are "long, laborious and expensive" to deal with.
"Quite frankly, the current regulations are completely impractical," he said. "Obviously, if you're going to cover breaking news, you can't file a flight plan."
Even stations with helicopters can benefit greatly from the use of a drone, Cavender said.
"You can get stunning pictures from heights and angles you can't get otherwise, not even with a helicopter," Cavender said. "And they're a lot cheaper not only to buy, but to operate, than a helicopter. A lot cheaper. For starters, you don't need the expense of both a pilot and a photographer to operate one. Not to mention the expense of the helicopter itself."
With the new regulations, the required distance between a commercial drone and people has been removed, though drones are still not allowed to fly directly above people who are not under cover.
Under the new regulations, which apply to drones under55 pounds, drones are not allowed to go more than 400 feet high (unless being operated from a tall structure) and can't go more than 100 miles an hour. Helicopters typically fly at about 1,000 feet.
"There are some days, due to low clouds, you can't fly a helicopter, but you can fly a drone," McCutchen said. "And you can get in closer proximity to your subject, which has its advantages."
Having a drone and helicopter at the station's disposal also will allow WISH to shoot two different news stories from the air simultaneously, Carl said. "There are lots of times when there are multiple traffic incidents or there's a big event in town where that would be advantageous," he said.
Invasion of privacy?
Safety risks aren't the only concerns with drones. There are also privacy issues. Most stations have their own policies on when and what to shoot with a drone. The RTDNA also has industry guidelines.
Still, some critics have complained the new FAA regulations don't go far enough to address privacy concerns.
An FAA fact sheet says the agency will provide users with recommended privacy guidelines as part of the registration process.
Cavender, RTDNA's boss, admitted it is much easier to invade someone's privacy with a drone than with a cameraman on the ground or even a helicopter, because the drone is so small and nimble.
"Any time there are advances in technology, you have these types of issues," he said. "It doesn't mean you should turn your back on technological advances. We went through all this with micro-recorders and pen-cams. We have to have a strict code of ethics in dealing with drones. And that code has to be taken very seriously."
Cavender is hopeful local officials will follow federal regulators' lead.
"What we do not need are state-by-state or municipality-by-municipality regulations on what you can and can't do with a drone," he said. "That gets unduly complicated. [Radio and TV stations] need to be at the forefront of addressing security and safety issues."
Despite the objections of some state lawmakers across the country, legislation approved earlier this year by the U.S. Senate would place all authority for drone regulations under the FAA. That hasn't stopped a number of sports leagues and schools from attempting to prohibit the use of drones over their events for licensing and safety reasons.
Adam Lisberg, spokesman for DJI, one of the nation's largest drone manufacturers, called the regulations "a milestone for the [drone] industry."
Drones, he said, have been proven useful for utility inspections, construction surveys, agricultural monitoring, university research and search-and-rescue operations.
"With these new regulations, the FAA is saying, 'Drones are good for America,'" Lisberg said, "and there are plenty of good reasons to see more of them in the air."