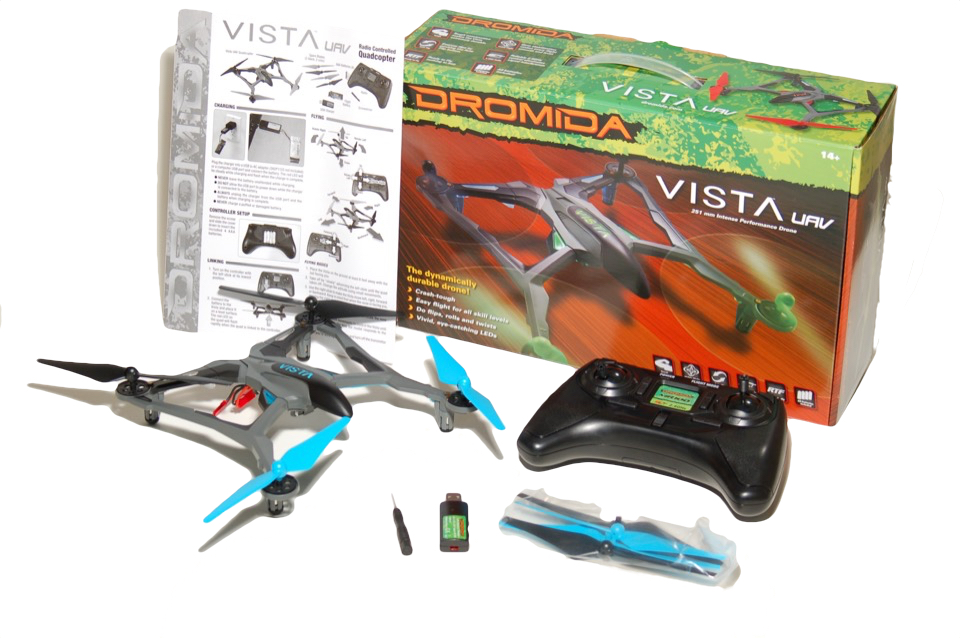 Dromida Vista UAV – Dynamically Durable And Worth A Look
The Dromida Vista UAV is a radio controlled quadcopter that comes in around 251mm (9.8″) long, weighs 122g (4.3oz) and requires nothing additional to fly.  So far so good.
It's not my usual test subject, but is of particular interest because my 8 year old son started learning how to fly helicopter's with an Axe 100CX a while ago.  He's well familiar with the Dromida series of car's and was immediately drawn to this Dromida quadcopter and it's LED's.  I believe the interest in this type of UAV fits in well with the surface crowd, and is something I've discussed before.  It's a great way to break free from surface and do something a little different without needing an airport to fly.
With so many options out there, sifting through the selections can be daunting. I'm curious what Dromida has to offer that differs from the seemingly hundreds of these on the market. I've been impressed with Dromida's surface products, and my initial impression from this unboxing is good.
It feels like the kind of quadcopter you can put in the hands of a young enthusiast without too much worry.  The construction is simple, solid and appears durable.  The motors are nicely incorporated into the air frame, and the electronics are neatly protected.
The transmitter comes with 4 "AA" batteries and will be familiar to gamers;  It's comfortable for youth and adult hands alike.  It has a button to select which flight mode you want to fly, can calibrate the heli, has digital trims, and offers a flip button to have the Vista do a full flip forward or back.
The VISTA UAV includes a USB charger for the 3.7v 850mAh 25c LiPo battery.
By my count, there are 5 LED lights to help orient you while flying.  In the case of my VISTA UAV, blue LED's and propeller's indicate the front.  White LED's and a red power light indicate the tail.  These are definitely a highlight of this quadcopter and make flying at night kinda fun, if not still a bit challenging.
Everything you need is included, and you can be flying in a matter of minutes after opening the box.